LEAN SIX SIGMA WHITE BELT TRAINING
Administrative & Business Services has instituted Lean Six Sigma White Belt training for all A&BS employees. Working in conjunction with UCI HR Partnership for Strategy & Innovation, this training will give attendees a fundamental understanding of process improvement through the Lean Six Sigma principles, methodologies, and tools. Kevin Phillips, UCI's Senior Director for Enterprise Organizational Effectiveness, recently conducted two introductory training sessions for 60 A&BS staff members, which included the following objectives:

Understand why A&BS is focusing on continuous improvement.
Gain knowledge of the history of process improvement.
Understand processes. Why focus on processes? What is a process?
Gain an understanding of LEAN and Six Sigma principles, concepts, methodologies, and tools.
Learn and practice how to apply LEAN to your environment.
Be able to apply Plan-Do-Check-Act (PDCA) to improve a process.
We are pleased to announce the following additional instructor-led trainings:

Tuesday, September 26 from 9:00 a.m. - 10:30 a.m.
Tuesday, October 17 from 2:00 p.m. - 3:30 p.m.
Thursday, October 19 from 9:00 a.m. - 10:30 a.m.
Register by logging into the UC Learning Center and search A&BS White Belt. Please contact Shaina Sims (simss@uci.edu; 949.824.3726) with any questions regarding registration.
Congratulations to our first two classes of participants! Click here to view a list of names.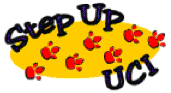 STEP UP UCI 2017 - 2018
Registration for this UCI faculty and staff program begins Friday, September 22, 2017. Please click the following link for more information: About Step Up UCI.
EXCELLENCE IN DESIGN
Mesa Court's expansion opened three new halls in the fall of 2016 to accommodate our growing campus and house an additional 800 first year students. This beautiful building is now being recognized with top honors, and won a National Award of Merit in the Education Facilities category from the Design-Build Institute of America!
As a result, this project is nominated for the National Award of Excellence in the Educational Facilities category and is a finalist for the Excellence in Process and Excellence in Teaming Award. Winners will be announced in November.
Additionally, this project was awarded the Best Projects Award of Merit in the Higher Education/Research category from Engineering News-Record (ENR).
GREEN LAB FAIR
Hosted by UCI Facilities Management and Procurement Services, in collaboration with the Office of Sustainability, UCI's first Green Lab Fair was held on July 19, 2017 in Sprague Hall to spread the word on incorporating sustainable practices in UCI labs. The event aimed to engage with students and faculty to share available resources and opportunities we have to achieve more sustainable labs and bring UCI closer to achieving its sustainability goals in the areas of water conservation and waste reduction.
Attendees were also introduced to and encouraged to participate in the Green Lab Assessment, which helps identify how sustainable a lab is and to learn easy tips for improvement. Click here for more information.
SUPPORTING UCI'S RESEARCH MISSION - COMPLETION OF MRI INSTALLATION
The Facilities Management Project Services team, led by Kyoko Adachi, partnered with the Office of Research and School of Social Sciences to update UCI's Facility for the Imaging and Brain Research (FIBRE) facility. Back in 2009, the Garden level (basement) of the Social and Behavioral Sciences Gateway building reserved a shell space for this specific initiative. It was built with an access pit and an external knock out wall system to allow for MRI equipment to be hauled in at a later date.
In May of 2016, Facilities Project Services received a Project Assessment Request from the School of Social Sciences to establish an MRI Imaging Center. Funding was approved in December of 2016, and in partnership with Procurement Services, Capital Planning, Environmental Health & Safety and Risk Services, and the Budget Office, along with the Office of Research, School of Social Sciences and the FIBRE Director, this prominent project was successfully accomplished in less than seven months.
This complex project involved installation of a new 3T fMRI scanner, chiller and supporting mechanical system, modifications of existing utility infrastructure, installation of new magnetic shielding, reconstruction of RF shielding along with new cabinet and finish works. The FIBRE facility is now equipped to support ambitious research, educations programs, and a rapidly growing clinical practice in UCI's Schools of Medicine, Biological Sciences, Engineering, Educations, and Social Sciences all supporting UCI's core mission of research, specifically research in the development of new and emerging methods for accessing brain and neurological information.
COFFEE WITH A COP
UCI's Police Department hosted an inaugural Coffee with a Cop event on June 22, 2017 led by Sergeant Park. Chick-fil-A provided free coffee, while UCIPD officers and staff cheerfully delivered coffee to each table and sparked conversation with students and other community members. Conversations throughout the afternoon were casual in nature ranging from students inquiring about a career in law enforcement to officers asking about students' ambitions after graduation.
Coffee with a Cop launched in Hawthorne, California in 2011, as a result of a brainstorming session. Members of the Hawthorne Police Department were looking for ways to interact more successfully with the citizens they served each day. In less than five years, Coffee with a Cop events have been hosted in all 50 states, the key to its growing success is that it opens the door for interactions outside crisis situations that typically bring law enforcement officers and community members together. Coffee is the mechanism. It's the conversation that starts as a result of the coffee.
2017 uciRIDEtoberfest
Join Transportation & Distribution Services at uciRIDEtoberfest: a festival of bikes, good food, and fun! The celebration takes place at the Aldrich Hall Flagpoles on October 10 and 11. Click the image for more information.
EMPLOYEE PROFILES
Toni Reger, Mail Services Supervisor, Distribution Services. I have worked at for UCI in Mail Services for over 38 years. In my role as a Mail Services Supervisor, I pick up, process and deliver mail daily to over 200 departments on campus. I also deliver alcohol - no, not that kind - to the various labs that order ethyl alcohol.
What aspects of your job do you enjoy the most? I enjoy serving the campus and helping the staff and students who I come in contact with.
What are three words to describe the Distribution Services staff? Efficient, knowledgeable, and patient.
What piece of advice would you give to a new employee? My personal motto is "nothing lasts forever, it will get better," so I would tell any new employee to hang in there for the long term and don't give up.
What is your favorite travel spot? Walt Disney World in Florida. My wife, Mary, (we've been married 36 years) and I love everything about Disney and have been to Walt Disney World at least three times. We usually go to Disneyland in Anaheim about 30 times a year and have lots of Disney memorabilia throughout our house, including a one-of-a-kind hand painted Snow White Treasure Chest.
If you were to write a book about yourself, what would you name it? "Mail, the Mouse, and Mary"
People would be surprised if they knew: I was once falsely arrested for trying to rob a bank! Years ago, I went to the bank teller and handed her a deposit slip to withdraw $20. She looked at me strangely, and handed me $20. I left the bank and stopped at a store next door before returning to my car. The next thing I know there are two police cars blocking my car with policemen pointing rifles at me, handcuffing me, and telling me I'm under arrest for bank robbery. Apparently, the deposit slip I'd handed the teller had "This is a robbery" written on the back and she pressed the silent alarm! Fortunately, the police reviewed the bank's security videotapes which showed a couple of kids writing on deposit slips before I entered the bank. However, they still couldn't release me until the FBI arrived. After that experience, I withdrew my money and signed up with a different bank!
Lourdes J. Torres, Human Resources Coordinator, A&BS Human Resources. I started working at UCI 5 years ago, my first year with UCIMC, and the last four years at Environmental Health & Safety and Risk Services (EHSR) and Facilities Management (FM) as an HR Coordinator. During the last four years, I have been responsible for recruiting and onboarding for both EHSR and FM.
What aspect of your job do you enjoy the most? The interactions and interpersonal relationships with the staff in my departments. It's like a breath of fresh air to work with genuine people every day.
How has UCI or your department helped you in your career development? They saw potential in me and gave me an opportunity. I have worked hard and try to make a difference every day.
What has been your favorite project at UCI or in your department? I am bilingual in Spanish, therefore I have also had the opportunity to work within our departments and other departments on campus to facilitate translation during meetings, trainings, and special events. It has been a great experience, especially meeting and interacting with other staff on campus.
Before your time at UCI, what was your most interesting or oddest job? I worked for a family cardiologist who taught me how to test glucose, blood pressure, and perform EKG on patients (no prior medical experience EVER!).
If you were stuck on an island what three things would you bring? Netflix, dog, and shampoo.
Motto or Personal Mantra: If you are having a bad day or are frustrated do not take it out on others.
Debbie Kistler, Manager of Change, Communications and Training. I've been with UCI for 1 1/2 years and I am responsible for the communication, change management and training for UCPath. I work to prepare the organization for UCPath and provide education on changes that will be required in processes and systems. In addition, I engage members of the community to review and provide input on key questions and understanding of the new processes.
What aspect of your job do you enjoy the most? I enjoy meeting new people from throughout the campus and helping them understand some of the benefits of UCPath and how it will impact them. It is great when people get excited about learning something new and wanting to be involved!
What are some upcoming trends or challenges that you see in your field? The challenge that we face is getting people to realize that UCPath is coming and they will need to find time to review their processes and get trained. The system will be very different from what we have today and training will be necessary. People will need to find the time to participate in training and understand how their processes will change.
What piece of advice would you give to a new employee? Ask lots of questions, there are no stupid questions! Be curious, check assumptions. Don't be afraid to try new things and stretch yourself.
Before your time at UCI, what was your most interesting or oddest job? My first job after college was at Kmart World Headquarters and one of my responsibilities was studying competition I followed a small little company in Arkansas, who's founder didn't want to open any stores farther than he could drive to. Sam Walton later changed his mind! I would also somedays go "shopping," pacing the size of stores and seeing what they carried, trying to look like I was shopping!
People would be surprised if they knew: I was a baton twirler in the Marching Band at Western Michigan University in Kalamazoo. Yes, there really is a Kalamazoo!
Administrative & Business Services
Office of the Vice Chancellor
559 Aldrich Hall
Irvine, CA 92697-1025
(949) 824-5109